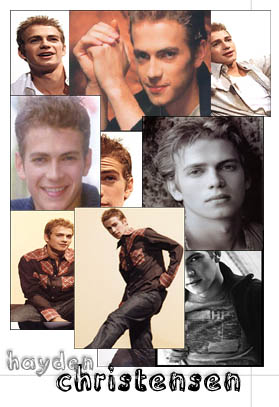 .::Hayden Christensen, 20::.
The Facts
Occupation : Actor
Birthday : April 19,1981
Height : 6'1
Status : Single
Hey look it's a Canadian Kid. The Canadians are coming, the Canadians are coming! Hayden is a superstar in the making. He was a relatively unknown actor up until he was chosen to be the father of Luc Skywalker, I think his name is Anakin Skywalker. I forget what the name of the guy is. Is it Darth Vader? Something like that. Anyway, he was chosen to play Darth Vader(?) in the prequel of Star Wars. The Movie is called Star Wars; Attack of the Clones. Don't you think the title is pretty cheesy?
Oh yeah anyway, Hayden was chosen and his popularity has steadily risen. A lot of his peers are noticing his talent and are raving about how this guy is so talented for his age. Believe it or not, he is only 20 years old. So the future looks bright for this guy.
I really like tennis and when I was surfing and researching for info on this guy, I discovered that he had a tennis scholarship to go to school. Isn't that so cool? I totally love this guy! He's Canadian, he loves tennis and hockey!, he's cute, he's nice and he's single!?! What more could you ask for? This guy is definetely going to be the next Russell Crowe but even cuter! =)
.::Pictures::.